Stop losing auctions now with!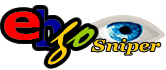 eBay Auction Sniper
No hidden fees or monthly costs!
Only a one time purchase price!
Just $14.95
EBgo Auction Sniper will track all your eBay auctions for you placing your bid just
before the auction closes (Snipe)!

Increases your chances of winning since people wont have time to outbid you !
Very easy to use!


Any eBay auction expert will tell you that sniping is the key to winning auctions!
Thanks to the EBgo Auction Sniper user friendly interface setting up a snipe is as simple as entering the item number and your maximum bid, or even drag and drop the item directly from your browser.


If you have ever bid on an item on eBay and at the last minute of the bid someone won the item from right underneath you, then you have been .. sniped . Stop losing auctions now with EBgo Auction Sniper!

No hidden fees or monthly costs!
Only a one time purchase price!
Just $14.95
Or download Ebay Auction Sniper free trial now!
Read our user comments:
"...The best software ever, i can monitor all my auctions information up to the minute, very easy to use, today win my first auction at incredible price! thanks to your sniper soft!..."
Mark Fillop.
"...Excelent piece of software, i love the agent search function. Five Stars !!! "
Linda Kah.
"...That's really an autobidder software! usefull to watch auctions too, search...
I use it everyday! Thanks :) .." Tony Manzano.

"...easy, easy, easy! congratulations! i love it..." Sysop Sandra.
Features:
Place instant bids for you or it can set up time delayed bids (sniping!) to be placed just before the auction ends to make shure that you will be the last bidder.
Handles any currency or timezone

Easiest to use Sniping software.

Advance search function with optional agent option that auto loads all results.

Drag and drop items from internet explorer.

Runs in watch mode to monitor auctions.

Stays synchronized with eBay Time.
Updates auction information at regular intervals that you assign.

Can be minimized to the system tray
FREE Unlimited Upgrades *******

FREE Email Support ********

New version available notice ******



The auction watcher is the main window. Very easy to add items to be sniped, watched or quick bid. Easy top buttons to add or remove from the list, options, search, update, and bid option button. Usefull check box to keep the window on top of all aplications to drag and drop items, a handy control of the auto update interval, and an option to enable/disable it.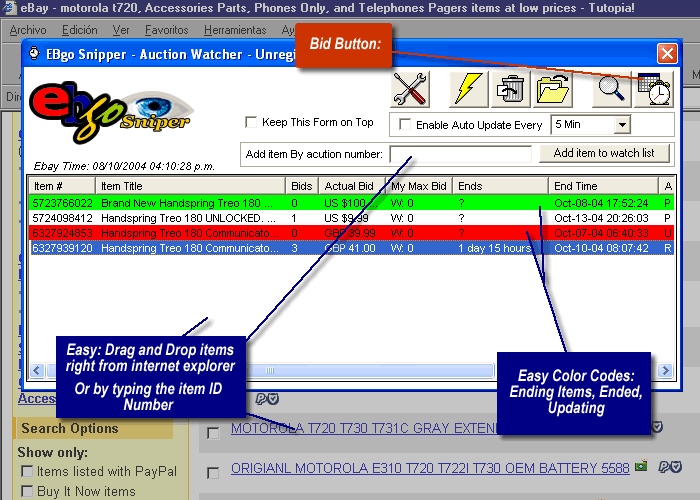 The EBgo Auction Sniper comes with a full featured search tool. Use it to do fast searches right from your desktop, or enable the agent check box to fill the watch windows with results.
Now with more options to refine your search!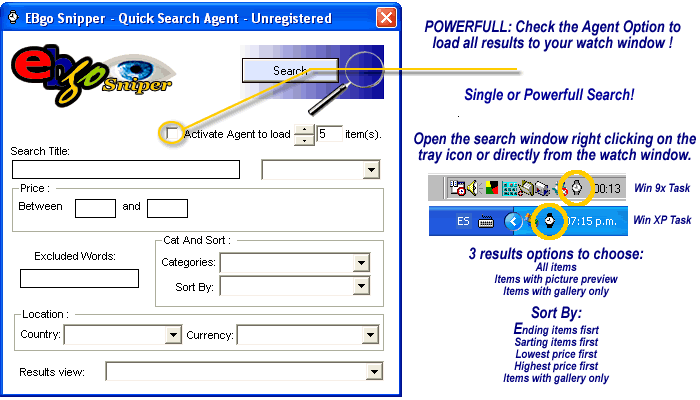 The Bid option windows comes with 3 functions, that let you do a quick bid, Snipe (Auto bid near auction end), or only watch the item. EBgo Auction Sniper comes with an easy setup window. http://www.auctionsniper.lat.bz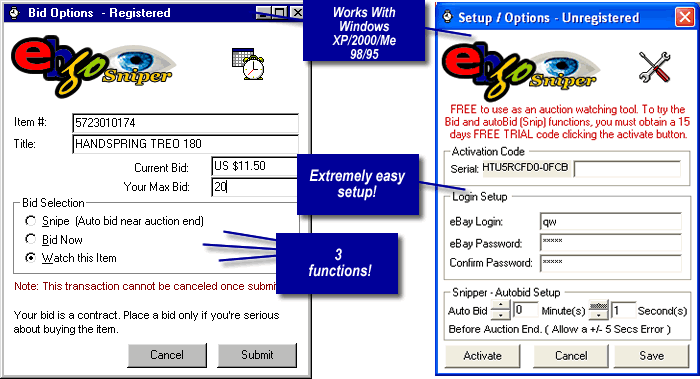 System requirements:
Windows 98, NT, 2000, Me, XP
Internet Explorer 4 or above
Internet connection

Stop losing auctions now with!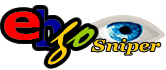 eBay Auction Sniper
No hidden fees or monthly costs!
Only a one time purchase price!
Just $14.95

(C) 2004-2012 EBgo.net - Software
Privacy Policy