Stop losing money now with!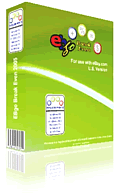 EBgo Break Even
No hidden fees or monthly costs!
Only a one time purchase price!
NOT AVAILABLE

Or download your free demo now!
Small Downloadable Version (less than 2 MB)!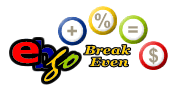 EBgo Break even is an easy but powerfull eBay/PayPal Fee Cost Analizer
plus a Brek Even Point / Profit Calculator!

Important: If you don't know your Break Even point then your Business is lost !
What is Break - Even and why is so important ?
The Break - Even point is the exact amount where a seller sells a product to cover all of
the variable and fixed fee costs associated with the product. Many sellers don't know
nothing about it and end winning less than expected.
EBgo Break even Support Almost any eBay Listing.
All eBay Auction Formats, eBay Motors, and eBay Real State.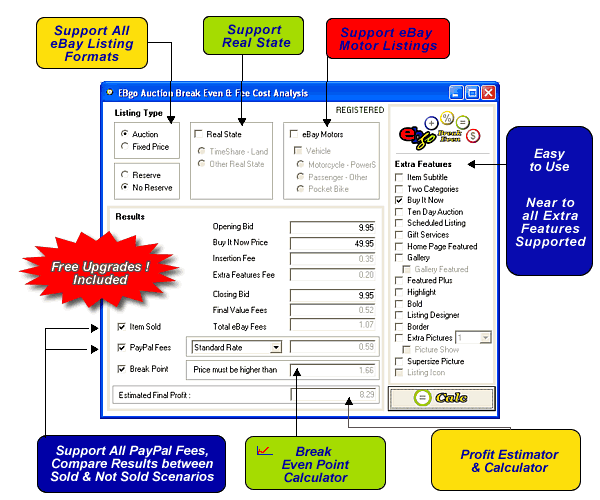 No hidden fees or monthly costs!
Only a one time purchase price!


NOT AVAILABLE


Read our user comments:

" In other words the break even point is the less amount you should
ask to avoid losing a penny , love the product .. ". Mike Solber.

"...I Was Losing my money! many thanks ...!!! " Tomas.
"...Thank to your soft i was able to find the best listing method for my
products, now i'm listing more items with less money.." Winston Armas .

Features:
Support eBay Auctions, eBay Motors, eBay Real State.

Break Even Point Calculator.

Featured Listing, Picture Packs, Scheduled listings, SuperSize Pictures, Gallery, Picture Show and many more fees are calculated.

Reserve Price fees calculated.

Ebay Final Value Fees!

Estimated Total Profits

Support PayPal fees for Standard and Merchant users.

Auto Check for updates.
U.S. Ebay/Paypal Version.
Support for all Windows Platforms (Win95/98/2000/Me/XP).
Automatic Setup to load the program and install desktop icons.
Loads with uninstall facility for easy removal.
100% Spyware Free


System requirements:
Windows 98, NT, 2000, Me, XP
Internet connection

Stop losing money now with!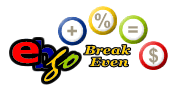 No hidden fees or monthly costs!
Only a one time purchase price!


NOT AVAILABLE
(C) 2004-2012 EBgo.net - Software
Privacy Policy